The Leicester Association welcomes new members
For general or membership enquiries please contact

NTLASecretary@hotmail.com
or our Chairman, 0116 2786542

Members pay an annual subscription (£9 per member or £8 for each additional member residing at the same address) to help cover the Associations running costs. In return members receive the Association's regular newsletters, a monthly email newsheet and priority bookings for visits and events.


Membership is open to paid-up members of the National Trust or its affiliated organisations such as the National Trust for Scotland; holders of a valid NT Volunteer card; spouse or partner of a life member; and National Trust staff.


We arrange a programme of meetings with talks, lunches, outings, social activities and a coach holiday for the enjoyment of members. We promote the National Trust locally and raise funds for projects at National Trust properties in the East Midlands and the Neptune Coastline Campaign. Some of our members help at local properties or give talks to outside groups.

In the winter months (September to April) we have a programme of meetings that include talks on a range of subjects of interest to National Trust members and supporters.

Evening meetings are held at Braunstone West Social Centre, St Mary's Avenue, Braunstone, Leicester, LE3 3FT. Doors open at 7.00pm with a talk at 7.30pm. Refreshments are served prior to the talk. Details can be found in the Evening Meetings

page.

Afternoon meetings are popular social occasions held at St Guthlac's Memorial Hall, Holbrook Road, South Knighton, Leicester. Doors open at 2.00pm for a talk at 2.30pm. Refreshments are served during the afternoon. Details can be found in the Afternoon Meetings

page.

The meeting admission charge is £3.00 for Leicester Association members and £4 for visitors, who are most welcome.

Lecture lunches are held at Devonshire Place, Leicester and the cost includes a two course lunch, coffee/tea and the speaker. Details are on the Lecture Lunches

page.

In the summer we arrange visits by coach to places of interest. These are usually National Trust properties, some near to home, others further afield. Details are in the Coach Outings

page.

The Leicester Association, founded in 1966, is a voluntary group affiliated to the National Trust with around 320 members from Leicester and Leicestershire.

The Association's policy is to make everyone welcome at our meetings, regardless of disability. Meetings are held at venues where rooms and facilities are accessible by all members and off street parking is generally available.

To find out more please contact the Membership Secretary by e-mail: NTLASecretary@hotmail.com or our Chairman 0116 2786542.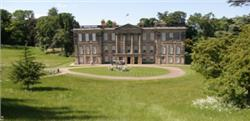 Calke Abbey
©NTPL/Paul Harris